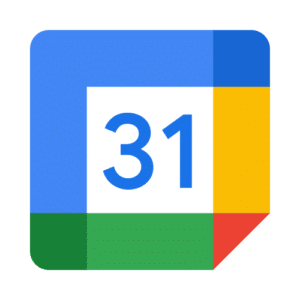 Google Calendar
Data from HoorayHR directly in your Google Calendar!
Integration Google Calendar x HoorayHR
Synchronise HoorayHR with your Google Calendar! With the Google Calendar integration you never miss an important moment from your team. All birthdays, holidays, and the availability form your team will be visible in your own schedule.
What is Google Calendar?
Google Calendar is the calendar function of Google Business. Here you can keep track of your own schedule and that of your entire company. The Google calendar allows you to schedule appointments for yourself, as well as invite others to appointments. Within an organisation, it is also possible to subscribe to each other's schedules, depending on the permissions within the organization.
The benefits of the HoorayHR x Google Calendar integration
Direct display of holidays in your Google Calendar for all your colleagues
Birthdays visible in your Google Calendar
See who is or is not working in your own schedule
How does the HoorayHR x Google Calendar integration work?
Various data is synchronised in real-time from HoorayHR to your calendar. This ensures you always have an up-to-date schedule! HoorayHR synchronises the following data to your Google Calendar:
Leave and holidays
Availability: who is working?
Birthdays
You can decide for yourself whether to enable synchronisation for the entire company or for one or more teams/departments. By adding the integration for those teams or colleagues, you can customise the integration to your needs. Best of all? You can set it up within 2 minutes.
Check out the knowledge article 'Activating Google Calendar integration' to learn more about the integration.
More information and help with use
Want to easily see all HR events in your own schedule? In the HoorayHR Help Center, you will find all the answers form our frequently asked questions. If you still need help, the heroes from our support team are available from Monday until Friday to answer all your questions!