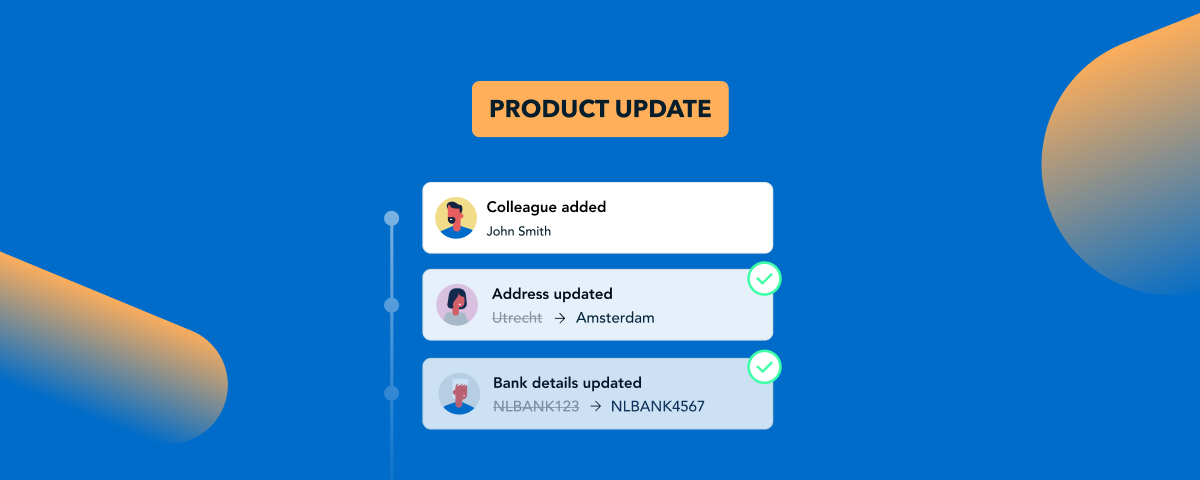 Mutation reports: history of all changes for your payroll administration!
It's incredibly important to keep your employee-data stored in HoorayHR up-to-date with other systems you use. Therefore, we're introducing our new feature that will track and make all changes to your employees' profiles transparent. A project we worked hard on this summer and are proud to make available to all of our customers.
What's new?
From now on, changes to employee-profiles and employments are tracked. If an employee's address is changed, we record who made the change, when it took place and what the old and new values are. A change in employment, such as a new contract, salary or availability, is also tracked.
Easy-to-read reports
An overview of all changes can be found in the mutations report, under "Reports" → "Mutations". Here you can see all changes per month (or a date range of your choice). Click on a mutation for an overview of the changed data.
Also useful: does someone accidentally delete data, for example a work schedule? No problem! Fortunately, you can now find this in the overview, including the data that has been deleted.
Reporting changes manually to the payroll administration
How do you pass an overview like this on to the payroll administrator? You can generate a comprehensive export of all mutations within the selected period. You can then forward this export to the payroll administrator.
To make it even more secure, ensure your payroll administrator has access to your workspace; all data will stay neatly within HoorayHR. Would you like to arrange this? Then get in touch with our support!
Processing mutations automatically to a payroll integration
In case you're wondering: why submit my mutations manually? I have an integration for this, don't I? That's right, if you use one of our payroll integrations (such as Nmbrs), most mutations are already processed automatically to the integration. Here too, the report offers new insights: you can see for each mutation when it was processed to your payroll partner.

With the mutations report, we add yet another great functionality to our application. A better overview, greater insights and peace of mind about your data in HoorayHR. Do you have any questions, feedback or ideas as a result of this product update? Feel free to ask away!