7 HR tools for savvy entrepreneurs (and HR managers)
Entrepreneurs have to spin many plates. Once you learned a particular trade but now you've got a lot more on your plate. Aside from being an entrepreneur, you're also the accountant, happiness officer, facility manager, insurance expert and… HR manager!
Within our company, we try to automate recurring tasks as much as possible. These also include HR tasks. Perhaps we're taking it a bit far as an innovate club, but nothing is more fun than having tools that really take your burdens away. Also, nowadays there are quite a few affordable tools perfectly suited to small organisations!
Which HR tools do we select for entrepreneurs and HR managers?
Within the HR domain you have to deal with many different tasks, from payrolling to recruitment and from contract management to internal communication. To make sure that all HR processes are streamlined, I like entrepreneurs to pick smart tools. I'm happy to share with you our 7 most used HR tools. So, you can have more time for other things as an entrepreneur, but above all create a happy and efficient team! And yes, Hooray is one of our favorites, so I'm happy to share that one with you too :).
1. Application process: Homerun
Alright, perhaps the standard vacancy page doesn't do the job anymore, but if you want to reach out to people, you'll want to lead them to an attractive vacancy page. We us Homerun for this. Homerun helps you create well-designed vacancies, including a nice visual business page. After you've set up your page, Homerun supports you in the entire application process: from application to selection.
A good alternative to Homerun is Recruitee.
2. Personnel administration: HoorayHR
Hooray was born out of our own frustration; we wanted all personnel matters to be properly organised for the entire team. Soon we found out that Excel files and loose documents made sure we lost a lot of time to keep everything up to date. In addition, we sometimes lost track of what was happening. Who is on leave and when? Which contracts are about to expire? And as the team grew, more people came to my desk with very practical questions about their annual leave allowance, change of address and their contract.
With Hooray we ensure that the entire personnel administration is properly taken care of. We help entrepreneurs with smart reminders so nothing is forgotten and we make employees super happy by giving them insight into their own personnel file. In addition, employees can arrange many things themselves, such as leave requests and logging overtime. Hooray automates the process for you. And unlike the big enterprise software packages Hooray is easy and affordable for everyone!
3. Intenal communication: Slack
Our team really appreciates open and transparent communication. Because the pile of e-mails and cc's that were sent drove us crazy, we chose to implement Slack two years ago. Slack is an advanced chat application, in which you can communicate 1-on-1, but also in channels. For example, we create a separate channel for each project/feature, so that everyone is kept up to date (you can quickly check what has been written) and can share their ideas very quickly. And another big advantage: your e-mail inbox is much cleaner.
We prefer slack, but if you're already using Microsoft 365, then Microsoft Teams is a really good alternative.
The start of the employee journey is recruitment. Especially in this tight labour market, recruitment is a challenge in general. Putting a standard vacancy on your website is not enough to get enough candidates to come and have a chat. We are increasingly hearing that the cover letter is dead. Actively and personally approaching candidates is key.
We use LinkedIn very actively to find candidates. For this I temporarily activate a Premium Business account. [https://www.linkedin.com/premium/switcher?planType=None]. The biggest advantage is that you can search as much as you want and thereby find the right candidates. I then choose to connect with a selection and invite them for a cup of coffee. Because you are not a recruiter, but the entrepreneur of the company, people really appreciate that you approach them personally. So far, this has worked very favourably for us.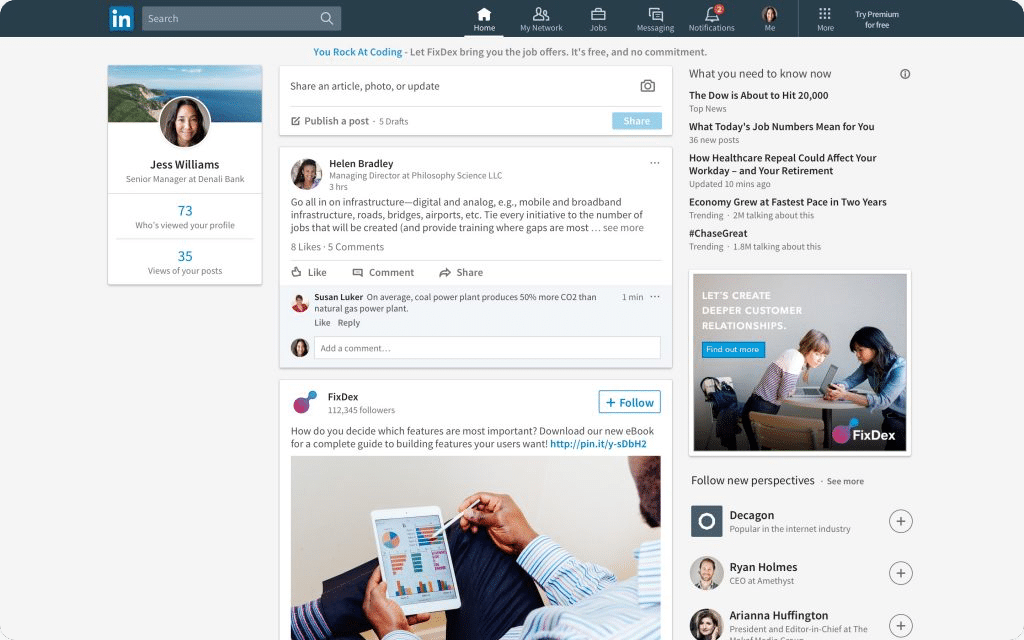 5. Internal sharing: Evernote
Sometimes I want to jot down something quickly, without having to work out a whole Word document. Evernote gives you the opportunity to jot down some scribbles. For example, I use it to prepare agendas for meetings or to keep minutes. I also use it in my role as HR manager, if I have feedback for someone in our team, I quickly write it down in Evernote, so that I can use it during the 1-on-1's. It's super nice to have concrete examples with it.
Two extra nice points about Evernote are that you can keep the notes private, but you can also share them with your colleagues. And two: the paid version of Evernote has a super smart presentation mode (I use this every day). This allows you to turn a small note into a cool presentation with one click.
Alternatives to evernote are Apple Notes, Microsoft's OneNote and Google Keep.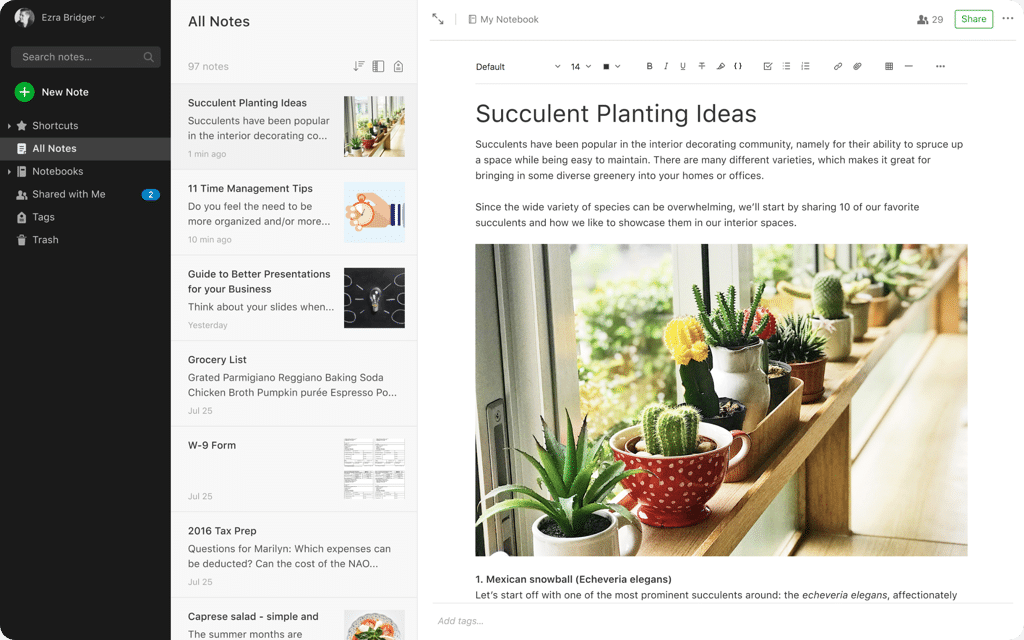 6. Feedback tool: Typeform
In my role as HR manager of Hooray, I regularly collect feedback from the team. This can be small things like: is there anything missing in the office? But also a satisfaction survey to see how happy everyone still is and if they have any feedback for the management. We are continuously learning and always working on how we can make our 'great-place-to-work' even better. To create these questionnaires, I use Typeform. A tool that generates stylish questionnaires and is easy to use.
Alternatives to Typeform: SurveyMonkey, Google Forms.

7. Tracking tasks: Todoist
As I mentioned at the beginning, entrepreneurs wear many hats. Many small tasks that you must not forget. A year ago, my business partner Bas gave me the book Grip by Rick Pastoor (I'm not normally one for management books, but this one is highly recommended for improving the management of your work). Rick describes how he gave activities and tasks a proper place. On Rick's advice I started using Todoist, a small tool for smart task lists.
This allowed me to suddenly have access to a list of tasks in one place, anytime and anywhere. I often have the tendency to think before I go to sleep: "Oh this has to be done tomorrow and I mustn't forget this". Now I quickly grab my phone, add a task to Todoist with one click and I see it the next day on my laptop.
This way I don't forget my HR tasks either!
Need alternatives to Todoist? Check out Trello.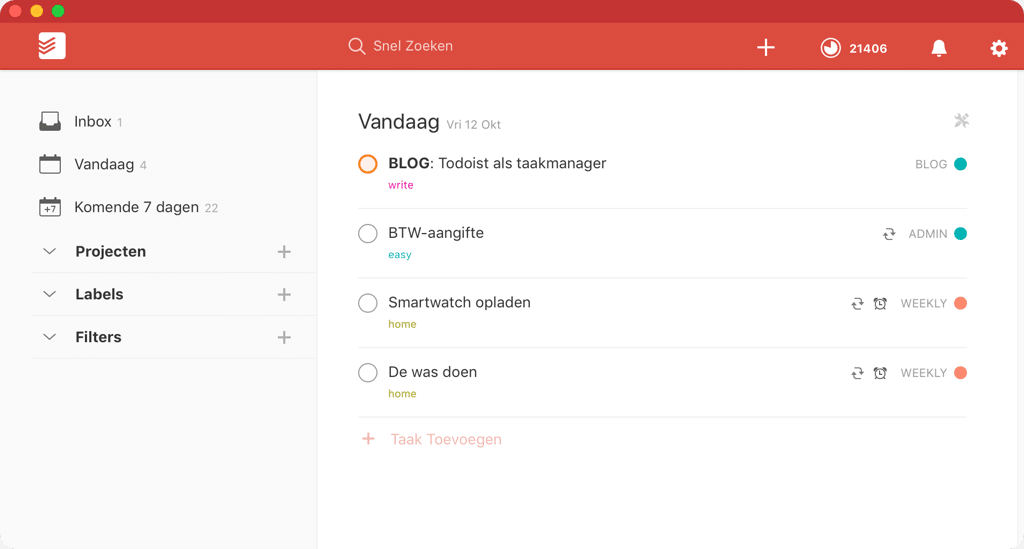 Which HR tools do you use?
Do you use other smart HR tools? Or do you have a question about one of these tools? Then feel free to e-mail our support team (support@hooray.nl). It would be great to exchange ideas with you.