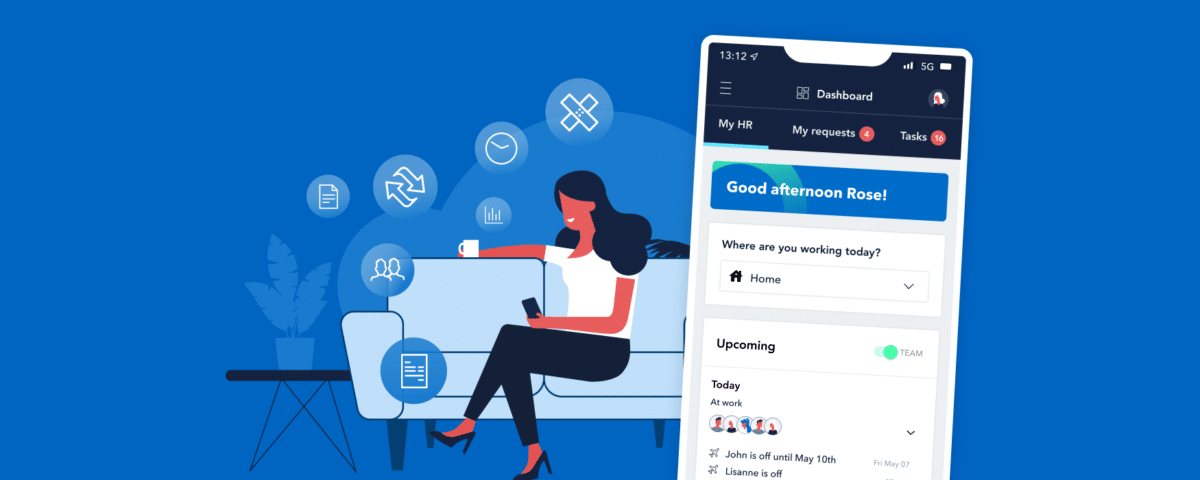 HoorayHR launches updated mobile app
The end of the year is approaching, a great time to not only take a moment and look back, but also a great time to unwrap (digital) presents. In our other update, you already read that we implemented our biggest update within leave (create unlimited leave types).
The second big release of our year-end celebration: the updated HoorayHR mobile app!
From tasks app to complete app
In 2020, we launched our first HoorayHR app. A user-friendly tasks app for employees that allowed them to register their leave, absence and expense claims, among other things.
Now two years later, HoorayHR has grown into a full all-in-one HR tool, with many more features available for our web version than for the app. From understanding contracts and viewing the calendar for vacations to adding new employees and assigning tasks from workflows. A (justified) wish from our customers was to be able to serve all these tasks from the mobile app as well. And not only focused on the employee, but also for administrators and team leaders.
Therefore, as of now, our web version is available as a mobile app for Android and iOs! The same platform and convenience, but now available in your pocket.
What has been updated in the app?
Everything! 🙂 We turned the entire web version into an app, where you can do almost everything you are used to on the web version. Create new users, add contracts, request leave, approve leave/absence/declarations, as well as perform tasks from the workflows.
For some tasks the web version is more usable, for example viewing reports (with extensive tables) or adding leave mutations in bulk. Of course, we paid a lot of attention that it is as available as possible in the mobile app. We continue to improve the app, so please continue to provide your feedback!
What do I need to do to use the updated app?
To use the updated app, you will need to update the current HoorayHR app. Your smartphone may have already done this automatically. It is also possible that you still need to do this manually.
Please note that the old app is no longer supported and no longer works properly. Updating the app is therefore necessary.
Don't have the HoorayHR app on your smartphone yet? Then download it quickly via the links below or look it up in the relevant app store of your smartphone.
iOS: download the app for iPhones.
Android: download the app for Android devices.